Plantiva is proudly located in Southern Oregon, one of the most beautiful and botanically diverse regions of the U.S.
Our mission:
To help you live your optimal life through powerful natural plant-based formulas.

Our mission is our passion.
Plantiva's core immune supplements have been on the market for over 20 years.  Though we are a small, family-run company, we manage every product batch from the growing field to store shelf. In the 1980s, Plantiva co-founder and lead formulator Stephen Morrissey OMD turned to natural medicine to save his own health and found his lifelong passion. In the process, he developed dietary supplements that are the highest quality and provide substantial benefits. The short version of Stephen's journey follows below.
Thanks for visiting.
Plantiva is the result of over 35 years of passion, study, and collaboration with experts in Traditional Medicine and Modern Science.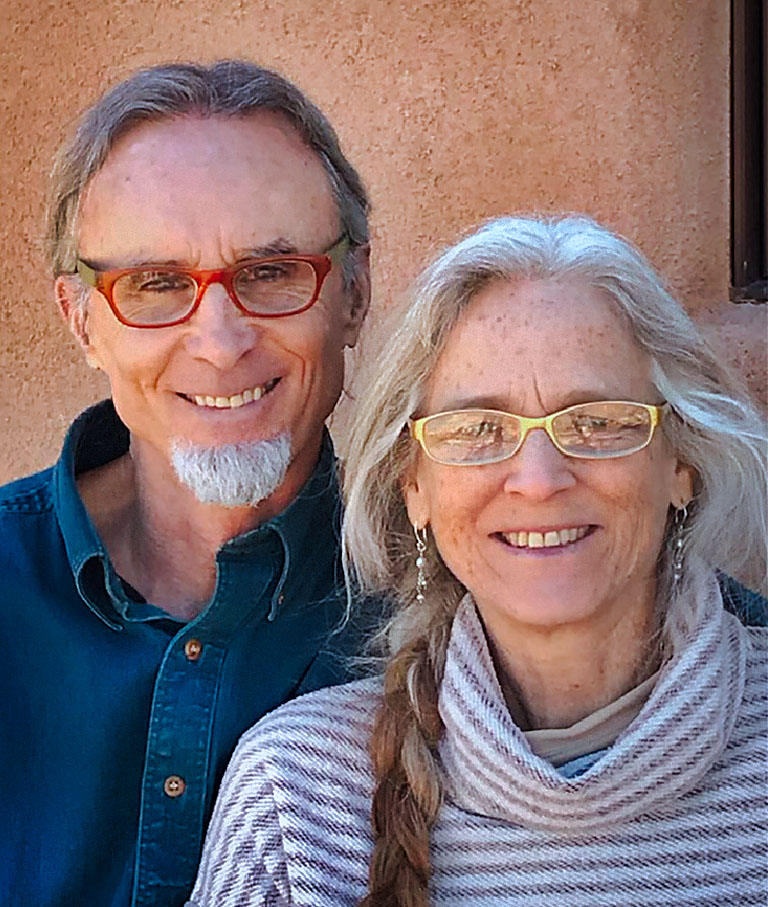 Stephen Morrissey OMD & Jenny Morrissey L.Ac.
"In my mid 20's I was on a road trip and ate a fish sandwich from a fast food joint.  I didn't know much about food poisoning until then. I spent an entire month laid up with over a 100-degree temperature and other forms of health distress.  None of the drugs I was prescribed had any noticeable effect on my fever.  I finally found a book on natural remedies and decided to try some awful tasting tea made with Hydrastis canadensis. My month-long fever broke within 24 hours.  But the weeks of fever had wreaked havoc with my system and I ended up with chronic fatigue syndrome a few years before anyone had put a name to that condition.
"I went from doctor to doctor, but no test could find anything that was abnormal.  I then made the rounds to every alternative health practitioner I could find.  It eventually became clear that I was the main person in charge of my health.  I spent all my free time reading about health from every angle.  Eventually I enrolled in a 4-year grad school program to get a doctorate in Oriental medicine.  I also took a one-year course in homeopathy, a one-year course in nutrition, and kept searching for answers from everyone from spiritual teachers to professional courses on functional and energetic medicine as practiced by physicians in Germany and Switzerland.
"In this process of learning the practice of healthcare – for 40 years now – there are specific solutions that I've incorporated into my health routines that have made a huge difference for me and many others.  I've created many formulas for specific health conditions and perfected them over the course of years. It turns out that addressing digestive function and optimizing immune health are crucial to just about everyone.  Plantiva was established to bring the best of these products to you for your personal self-care use."
How We Create Highly Effective Formulas
By integrating perspectives from acupuncture, homeopathy, and electrodiagnostics from German biophysicists, Stephen developed a system to comparatively evaluate the therapeutic potential and tolerance of different natural ingredients on patients before they would take something home. The system also provided a way to optimize ingredient combinations to target specific health conditions. Plantiva products were born out of this process – a way of directly asking the body what it wants rather than just using theory – and creating formulas for patients to supplement their health progress between office visits.
Having now undertaken 9 successful blinded placebo-controlled studies on Plantiva products, we've not only validated the significant benefits of our products but also our proprietary formulation protocols.